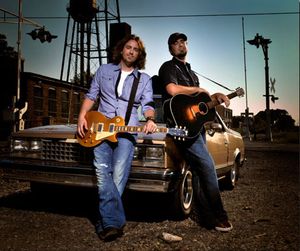 Endorsements from worldclass entertainers like Kenny Chesney don't come everyday, but they did come to this brotherhood.  "We had the Big Star competition goin' on, and these guys were by far the best," Chesney told a throng of screaming supporters as Brother Trouble blew all the competition out the doors on Chesney's much publicized "Next Big Star" national talent search.  With the praise, the brothers landed a $25,000 pay check and the hallowed ground onstage of opening spot on the closing dates of Kenny Chesney's jammed to the rafters, Poets & Pirates tour.  A far cry from the Sutton brothers early career experience of singing for tips on the Honky Tonk circuit.

Fresh on the scene in Nashville just a few short years ago, Nashville's Wildhorse Saloon put gas in their tank—both literally and creatively—when the brothers landed the rarified spot of a regular gig--allowing them to showcase their original music in one of the town's hottest clubs. "It was like a chance to 'go viral' with our sound and songs," noted Jason in a recent interview with Ellen Barnes of Gibson.com "It was one of the biggest tourist spots in Nashville and the weekend audience would take our music back to Texas or Illinois or wherever they came from." 
"Nobody today is just one genre," notes Mark in talking about the amalgamation of early influences the brothers developmental musical chops paid homage to.  Cutting their teeth early-on on the Myrtle Beach club circuit the brothers showed flashes of a creative heritage that included influences like Hank Jr.'s hard-edged honky-tonk, with pop-tinged shadings of Alabama. A shaker of Joe Walsh riff-and-hook laden blues made love to the southern fried rock of ZZ Top, 38 Special and Skynyrd.  What emerged from the sands of South Carolina summers was a very unique sound that Brother Trouble solidly owned.
Today, songs like Summer's Little Angel, and Blow the House Down have pre-built a fan base for the brothers' distinctive sound and musical vibe long before the thought of 'radio impact' ever had a chance to cross their minds.  What has impacted with their audiences is their uniqueness. Brother Trouble has consistently stamped their brand on a free-wheeling approach to music that authentically brings the too often missed bona fide 'kick-back and party down' fun roaring back into the fabric of country music.